Grill are an essential component of home decor and design. They can add both beauty and functionality to various areas of the home, such as doors, windows, and partitions. Whether you choose a classic brass grill design or a modern white metal grill, it can complement any decor style and add a unique touch of visual interest. With a wide range of grill designs available, you can choose the perfect one to transform your living space. With their durability and expert craftsmanship, metal grills can be a long-lasting investment in the beauty and functionality of your home. From Modern and classic designs to intricate and ornate patterns, there is a wide variety of grill designs to choose from.
Decorated Lotus Themed Partition Grill
The Decorated Lotus Metal Grill is a stunning piece of art that can transform any space into a beauty. Skilled artisans handcrafted this elegant grill from high-quality metal, expertly carving intricate lotus flower designs into the metal to give it a unique and captivating appearance.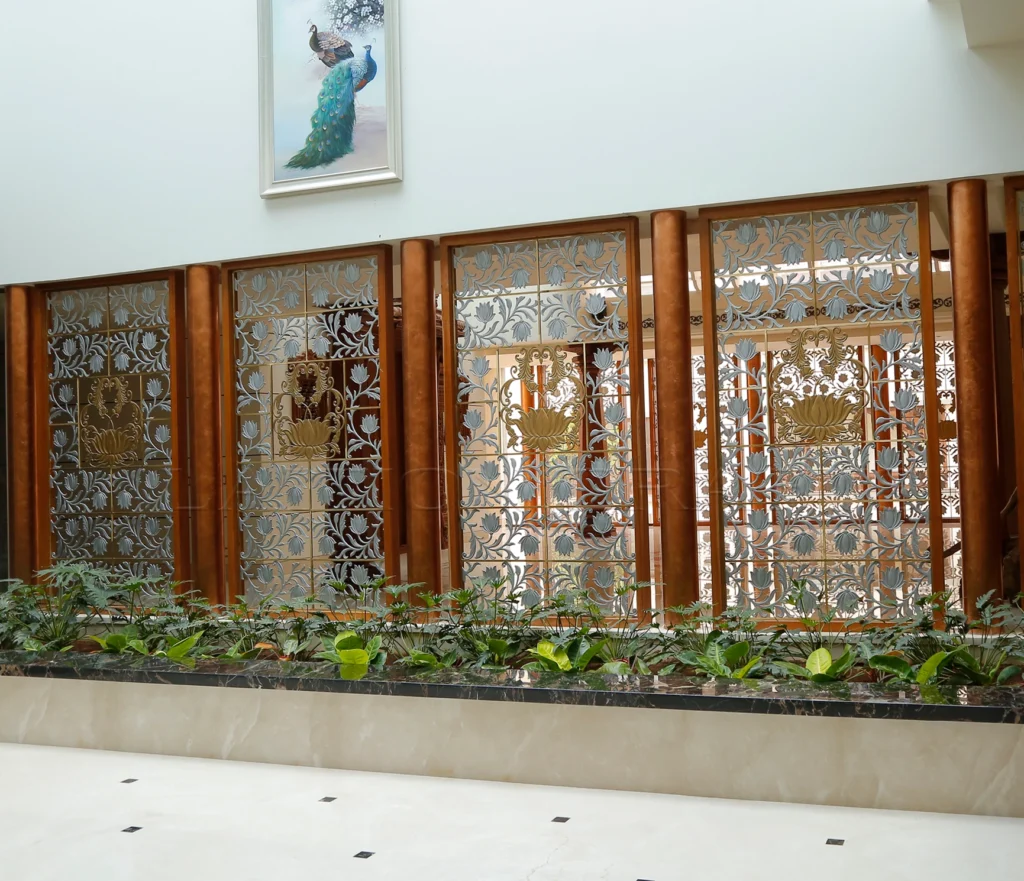 Contemporary Brass Partition Grill
The Contemporary Brass Partition Grill is a modern and sleek handcrafted grill that divides your pooja room and living area while adding elegance to your decor. Its high-quality brass material is durable and long-lasting. The functional design and durability of this brass grill make it a valuable addition to any home. Experience its modern beauty and functionality today.
Floral Flower Pattern Partition Grill
With its beautiful floral pattern and expert craftsmanship, the Floral Flower Pattern Partition Divider Brass Grill is the perfect addition to any living space. Crafted from high-quality brass, this handcrafted grill offers both durability and elegance. It functions as a stylish partition divider, providing privacy without sacrificing air flow and natural light. Moreover, its timeless design ensures that it will enhance the beauty of your decor for years to come. Don't hesitate to experience the functionality and elegance of this exquisite brass grill today.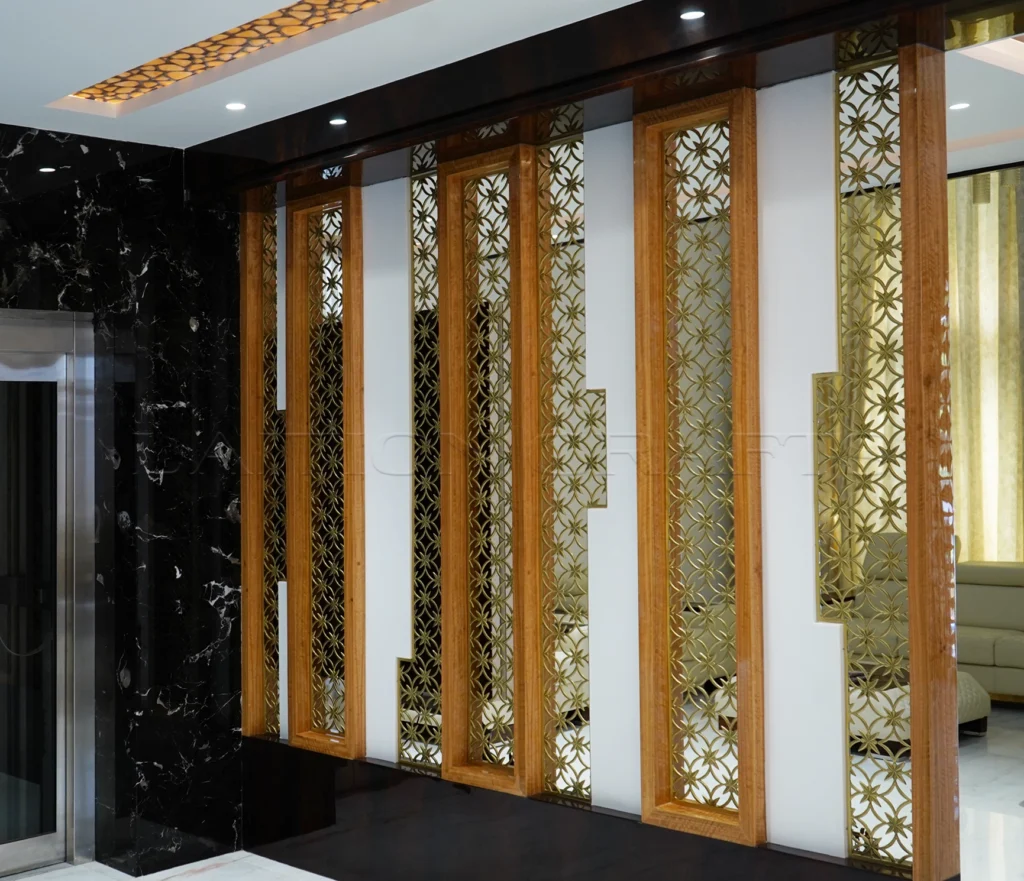 Modern Partition Grill 
Expertly crafted from high-quality brass, the Modern Brass Partition Grill is a must-have addition to your home decor. Its modern design is perfect for any interior style, and the durable brass material ensures long-lasting use. This functional grill serves as a stylish divider, providing both privacy and air circulation to your living space. Plus, its unique design adds a touch of elegance and sophistication to any room.  Elevate your home decor with this versatile brass grill today.
Geometric Themed Grill 
This brass grill was custom designed to serve as a stylish divider between the living and dining areas. Our skilled artisans worked closely with the client to create a geometric theme that matched their specific needs and preferences. The high-quality brass material ensures durability and longevity, allowing light and air to flow freely while also providing privacy. The brass grill was seamlessly integrated with the wooden partition to create a cohesive and elegant look in the space. The result is a modern and sophisticated design that adds a touch of elegance to the decor while dividing the living and dining areas.